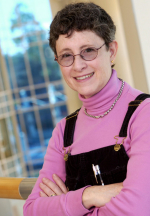 Joanne Kurtzberg, MD, is a world-renowned expert in cord blood transplantation. During the past two decades, she has been investigating the use of umbilical cord blood as an alternative to bone marrow transplantation, as well as autologous (own) and allogeneic cord blood transplantations in regenerative medicine, the ex vivo expansion of stem cells derived from umbilical cord blood, the immune system's reconstitution after cord blood transplantation, etc.

She is also renowned due to her role in the development of two novel anti-leukemia drugs.
Joanne Kurtzberg is a Professor of Pediatrics, Professor of Pathology and Director of the Pediatric Blood and Marrow Transplant Program at Duke University Medical Center. Dr. Kurtzberg is also the Director of the Carolinas Cord Blood Bank, Co-Director of the Stem Cell Laboratory, and Chief Scientific Officer of the Robertson Clinical and Translational Cell Therapy Program. She holds positions on several scientific advisory boards, including the Medical Advisory Board of the International Children's Cancer Society, the National Cancer Institute, The Children's Oncology Group etc. She also co-chairs the National Marrow Donor Program Cord Blood Committee. Dr. Kurtzberg acts as the president of the Cord Blood Association formed in March 2015.
Dr. Kurtzberg earned her medical degree from New York Medical College in 1976, internship at Dartmouth Medical College, and residency in pediatrics at Upstate Medical Center in 1979.
Dr. Kurtzberg's Activity at Duke University Medical Center
In 1980 Dr. Kurtzberg began her career at Duke University Medical Center as a senior research fellow in pediatric hematology-oncology. Within three years she was appointed to be assistant professor of pediatrics and became a professor of pediatrics in 1993 and professor of pathology in 2003.
Dr. Kurtzberg established the Carolinas Cord Blood Bank (CCBB) in 1998 and performed first unrelated cord blood transplant at 1993.
Under Dr. Kurtzberg's leadership, Duke has established an internationally known children's transplant program, which currently treats children with cancer, blood disorders, immune deficiencies etc. Over the past several years, the cord blood transplant program at Duke has initiated studies of autologous cord blood in children with neonatal brain injury and cerebral palsy.
Dr. Kurtzberg has published almost 400 manuscripts in leading medical journals and 30 chapters for textbooks. She uses to mentor post-doctorate fellows and serves as a preceptor to medical students in laboratory and clinical environments.
Dr Kurtzberg's Israeli Connection
In 2009 Dr. Kurtzberg successfully treated a six year old Israeli girl, Amit Kadosh, who suffered from severe leukemia and despite the countrywide campaign no matching bone marrow donor was found and thus the lifesaving procedure involved cord blood transplantation using two units from unrelated donors.
Several Israeli children were enrolled in the clinical study led by Dr. Kurtzberg to treat children suffering from CP (Cerebral Palsy)* by an autologous cord blood transplantations.. Of these children, had their cord blood collected, cryopreserved and banked by Taburit, the family cord blood bank of Sheba Medical Center.
Dr. Kurtzberg visited Israel at April 2013 and was a key speaker at Israstem Conference, lecturing about "Repurposing Cord Blood for Transplantation and Regenerative Medicine".
* The procedures were carried out as a part of large FDA-approved clinical study, for more information click here